Wearing a mask at the Museum is optional.
Click here
for more information on visiting.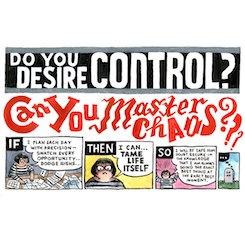 Laura Park Interview
September 24, 2017
2:00 PM
Come hear Laura Park, the 2017 Columbus Comics Residency recipient, speak about her creative process with interviewer, comics writer, and blogger Jared Gardner, a professor of English and Film Studies at OSU. This program marks the kickoff to the 2017 Cartoon Crossroads Columbus festival, a city-wide celebration of cartoon arts. Admission is free.
[Image: Do You Deserve Control, 2016, by Laura Park. Courtesy of the artist].