The Museum is closing early Thursday, September 29, at 3:00 PM for our annual gala.
Click here
for more information on visiting and to reserve a ticket.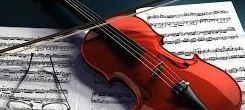 L'Histoire du Soldat concert featuring the Westerville Symphony
September 29, 2018
1:00 PM
Celebrate the 100th anniversary of Igor Stravinsky's ground breaking work L'Histoire du Soldat. Conducted by Peter Stafford Wilson, the "narrative ballet in five scenes, to be read, played, and danced" will be performed by musicians from the Westerville Symphony, joining forces with artists from CATCO, BalletMet, WOSU, Otterbein University and CCAD to present the iconic multi-medium work in its original format with an added 21st-century element. This program is free with admission but seating is limited.