The Museum is closing early Thursday, September 29, at 3:00 PM for our annual gala.
Click here
for more information on visiting and to reserve a ticket.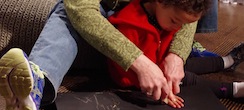 Open Studio
March 4, 2017
1:00 PM - 3:00 PM
Come and celebrate Women's History Month by looking at works of art by women artists and then making your own art inspired by their work. Visitors of all ages are welcome to drop into CMA's Center for Creativity Studio to explore ideas, solve creative challenges, and collaborate with friends or family. This program is free with admission, no registration requested.