Wearing a mask at the Museum is optional.
Click here
for more information on visiting.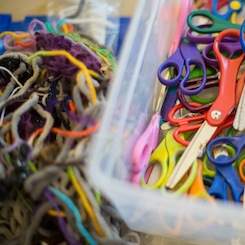 Open Studio
January 27, 2018
1:00 PM - 4:00 PM
Create imaginative LEGO® worlds or get inspired by the quilts of BOTANICAL WONDERS then create your own cozy art with patterns and recycled materials. Visitors of all ages are welcome to drop-in to CMA's JPMorgan Chase Center for Creativity Studio to explore ideas, solve creative challenges, and collaborate with friends and family. Cost is included with general admission, no registration requested.