Wearing a mask at the Museum is optional.
Click here
for more information on visiting.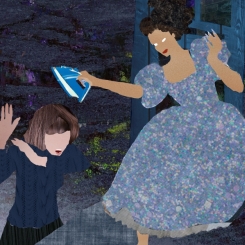 Opening Day of Was It Your Trigger Finger?
February 17, 2023
10:00 AM–6:00 PM
Location: Pizzuti Collection of CMA
Join us at the Pizzuti Collection of CMA for the opening day of Was It Your Trigger Finger?
This location will have special extended hours on Friday, February 17 until 6:00 PM. Visitors have the opportunity to mingle with the artists from Greater Columbus: The 2023 Greater Columbus Arts Council Visual Arts Awards Exhibition and Was It Your Trigger Finger? from 4:00–6:00 PM. No registration required.
Was It Your Trigger Finger? features work by artist Bobby T. Luck. Focusing on decolonizing modern imagery and media, Luck's work re-imagines globalization and the self by breaking down diplomatic and emotional borders through film, collage, and sculpture.

Image: Bobby T. Luck, Mamma Mia (detail), 2022. Courtesy of the Artist.