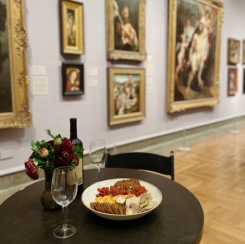 Private Gallery: Valentines Day Edition
February 13, 2021
Tickets SOLD OUT
Location: CMA
*Sold out of all ticket slots!* Thank you for your overwhelming interest and support!
Reserve your private gallery space at CMA this Valentine's Day! This once in a lifetime experience allows you to slow down and intentionally experience our space in a safe and creative way. This one hour experience comes complete with a bottle of wine, snack spread, and curated activity to engage with your gallery.
During your visit, please visit the Museum store and receive 30% off your purchase.
COVID-19 Safety: This experience was designed with the best practices for COVID-19 safety in mind. You will arrive in your private gallery with the room pre-set as to limit your contact with staff. Limited contact to our team and other patrons is what makes this experience a great socially distant way to enjoy Valentine's Day. If mandates prevent this experience from occurring, you will be notified and receive a ticket refund.