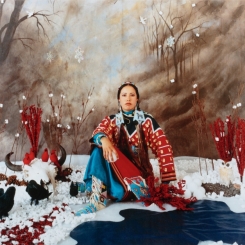 Public Opening Day of Wendy Red Star: A Scratch on the Earth
April 21, 2023
10:00 AM–5:00 PM
Location: CMA
Originally conceived and presented at The Newark Museum of Art in February of 2019, the Columbus Museum of Art is proud to present Wendy Red Star: A Scratch on the Earth, the most comprehensive exhibition of Wendy Red Star's work to date.
The exhibition is curated by Nadiah Rivera Fellah, guest curator, and Tricia Laughlin Bloom, The Newark Museum of Art's Curator of American Art. It is supported by a grant from The Andy Warhol Foundation for the Visual Arts and by Loren G. Lipson, M.D., and has been developed to tour venues. The exhibition was on view at The San Antonio Museum of Art in early 2022.
This unprecedented show features over 40 works by Red Star, including loans from museum collections throughout the United States, and highlights 15 years of Red Star's studio practice, from 2006 to 2019. Bringing the historical details of Crow and colonist history into the Technicolor present, Red Star uses photography, textiles, and mixed media installation to explore themes of Crow history, the indigenous roots of feminism, and contemporary life on the Crow Indian reservation in Montana where she was raised.
Image: Wendy Red Star, Winter—Four Seasons (detail), 2006. Archival pigment print on sunset fiber rag, 23 x 26 in. (58.4 x 66 cm). The Newark Museum, Gift of Loren G. Lipson, M.D., 2016 2016.46.1.3 © Wendy Red Star