Wearing a mask at the Museum is optional.
Click here
for more information on visiting.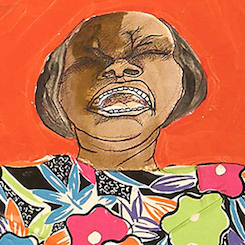 Wednesdays@2: Raggin' On Conversation
February 17, 2021
2:00 PM - 3:00 PM
Location: Online
How can art and art institutions disrupt systematic racism? Panelists and exhibition catalog contributors Ramona Austin and Lisa Farrington will explore this idea through the lens of Aminah Robinson's art in conversation with curators Carole Genshaft and Deidre
Hamlar
.
Ramona Austin has over three decades of professional experience in the arts and art education, including positions at Baron and Ellin Gordon Art Galleries at Old Dominion University, Hampton University Museum, Art Institute of Chicago and Dallas Museum of Art. Her expertise is in African art, African retentions in African American art, and the artistic traditions of the African Diaspora. Lisa Farrington is the Associate Dean of Fine Arts at Howard University and founding chair emeritus of the Art & Music Department at CUNY's John Jay College of Criminal Justice. She specializes in race and gender in visual culture, African American art, modern art, and Haitian art and vodou culture.
Image: Aminah Brenda Lynn Robinson,
Incantations (
from
Themba: A Life of Grace and Hope
series
) (detail),
1996-2012. Columbus Museum of Art, Ohio: Estate of the artist.