We believe it is our responsibility to support the City of Columbus' mask mandate, and to provide as safe an experience as possible for our visitors. We ask all Museum visitors to respect the mandate and each other, and please wear a mask.
Click here
for more information on visiting and to reserve a ticket.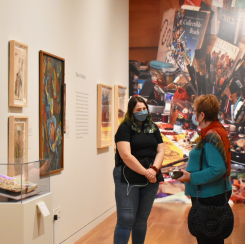 Raggin' On Curator Tour
May 8, 2021
10:30 AM – 12:00 PM
Location: CMA
Book a private, curator-guided tour for you and up to 4 others (max 5 people) for a safe and exclusive viewing of Raggin' On. Hear the stories behind the works of art and how the exhibition was brought to life. Cost per group is $150 for non-members with a discounted rate of $100 for members (to receive the discounted rate the booking party must be a current member). Only one group will be permitted per time to ensure social distance. Please allow at least 24-hours notice if booking the tour.