Wearing a mask at the Museum is optional.
Click here
for more information on visiting.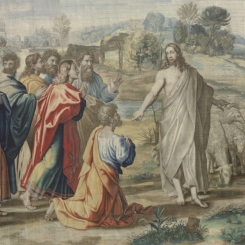 Raphael Member Preview Party
July 14, 2022
6:00–8:30 PM
Location: CMA
Members see Raphael FIRST on July 14
Please join us for a special members evening celebrating an extraordinary exhibition centered on six monumental tapestries that have inspired generations of artists for more than four centuries. These tapestries, on loan from Dresden's Gemäldegalerie Alte Meister (GAM), will be seen at your Museum in their only US appearance.
6:15 PM
Dr. Stephan Koja, Director of the GAM and Larissa Mohr, co-curator of the exhibition
7:30 PM
Helen Kohn, research assistant at GAM and Francesca Croce, PhD candidate at the University of Vienna
Member Preview Tickets for July 14
Mortlake Tapestry Manufactory (after designs by Raphael), Feed My Sheep (Christ's Charge to Peter) (detail), After 1625. Tapestry, Staatliche Kunstsammlungen Dresden, Gemäldegalerie Alte Meister