We believe it is our responsibility to support the City of Columbus' mask mandate, and to provide as safe an experience as possible for our visitors. We ask all Museum visitors to respect the mandate and each other, and please wear a mask.
Click here
for more information on visiting and to reserve a ticket.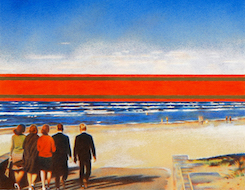 Red Horizon Panel Discussion
September 14, 2017
6:30 PM - 8:00 PM
In conjunction with the exhibition
Red Horizon
, a panel of artists, art historians, and curators will discuss the politics of cultural production in the USSR during the 20th century and the continued relevancy of the art of dissent today. Participants include the artists Vitaly Komar and Alexey Titarenko; Natalia Sidlina, curator of Russian art at Tate Modern in London; and Christina Kiaer, Associate Professor of Art History at Northwestern University. This discussion is presented in partnership with the Department of History of Art at The Ohio State University. This program is free and open to all; however,
registration is available here.
For questions, please call 614.629.0359.