The Museum is closing early Thursday, September 29, at 3:00 PM for our annual gala.
Click here
for more information on visiting and to reserve a ticket.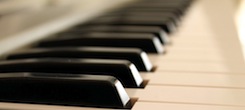 Richard Lopez Presents Benny Goodman: The King of Swing!
November 5, 2017
3:00 PM
This series of jazz performances features the best of traditional and contemporary jazz offerings with area master musicians. In November, join in celebrating the great music that Benny Goodman made popular in this collaborations with pianist Teddy Wilson, vibe player Lionel Hampton and my others. Jazz Arts regular, Byron Rooker will play the part of Benny Goodman to a tee, and will be joined by an all-star cast with Richard Lopez on piano, Roger Braun on vibes, Guy Remonko on drums and Roger Hines on bass. Tickets are $20 for adults, $15 for seniors, and $7 for students. CMA members receive $2 off each individual ticket. For more information, please call 614.629.0312.