Wearing a mask at the Museum is optional.
Click here
for more information on visiting.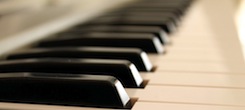 Richard Lopez Presents Showtime at the Apollo Theater Celebrating the Harlem Renaissance
November 4, 2018
3:00 PM
This series of jazz performances features the best of traditional and contemporary jazz offerings with area master musicians. This concert celebrates great historic performers who have starred at the Apollo Theater such as Ella Fitzgerald, Billy Holiday, Lena Horne, Fats Waller, Dizzy Gillespie, Louis Armstrong and others. Featuring performances by Evelyn Wright, vocals; Richard Lopez, piano; Lee Savory, trumpet; Terry Douds, bass; and James "Smooth" Elliot, drums. Tickets are $20 for adults, $15 for seniors, and $7 for students. CMA members receive $2 off each individual ticket. Tickets also available at the admissions desk. For more information, please call 614.629.0312.