The Museum is closing early Thursday, September 29, at 3:00 PM for our annual gala.
Click here
for more information on visiting and to reserve a ticket.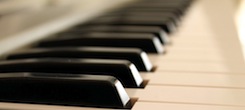 Richard Lopez Presents Sing in the Holidays with Jazz!
December 10, 2017
3:00 PM - 5:00 PM
This series of jazz performances features the best of traditional and contemporary jazz offerings with area master musicians. In December, Columbus favorites Kelly Delaveris and Cherie Mannino will be joined by guitar and bassist extraordinaire Derek DiCenzo! We'll present the warmth and joy of the holidays with some great swinging jazz! (watch out for a special appearance by the "Grinch"!). Richard will be joined by an all-star Rhythm section. Tickets are $20 for adults, $15 for seniors, and $7 for students. CMA members receive $2 off each individual ticket. To buy tickets, visit the admissions desk. For more information, please call 614.629.0312.