As of March 7, the City of Columbus and Franklin County have lifted their mask mandates. Wearing a mask at the Museum is now optional.
Click here
for more information on visiting and to reserve a ticket.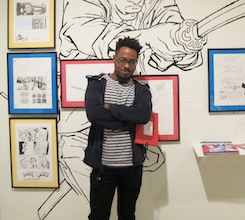 Ronald Wimberly Black History in Its Own Words Book Signing & Reception
February 19, 2017
1:00 PM
Ronald Wimberly, recipient of the 2016 CMA/Thurber House Graphic Novelist Residency, returns to Columbus to celebrate the publication of his new book Black History in Its Own Words. Wimberly will be available to sign copies of Prince of Cats and Black History in Its Own Words, both of which will be available in the CMA Museum Store. Don't miss your final opportunity to see Wimberly's CMA exhibition, which includes drawings from his comics, Black History in Its Own Words, Prince of Cats, Attack on Titan, the Eisner Award-nominated Lighten Up, and much more. A reception and gallery talk follow the signing.