Wearing a mask at the Museum is optional.
Click here
for more information on visiting.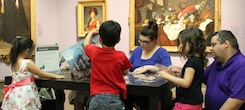 Sarah Boor Bennett Family Aventure Tour
July 9, 2017
2:00 PM
Share ideas, laugh, and play games during this docent-guided experience. Your family team may embark on a scavenger hunt, imagine yourselves inside a painting, or discover a work of art that tells a family story. Family Adventures are a great way to share quality time and make new memories together. No registration requested.