Wearing a mask at the Museum is optional.
Click here
for more information on visiting.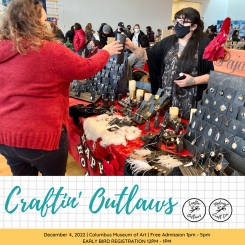 Shop Craftin' Outlaws
December 4, 2022
1:00–5:00 PM
Location: CMA
Combine your love of arts and crafts, as Craftin' Outlaws returns for a one-day marketplace at the Columbus Museum of Art. We will be hosting over 30 exhibitors from around the Midwest, who offer a variety of handmade items for purchase. Shop from original art, bath and body products, candles, ceramics, housewares, fan art, jewelry, greeting cards and so many more things we can't even imagine until we see them in-person.
EARLY BIRDS can shop from 12:00–1:00 PM, $15 registration fee. Shop from 1:00–5:00 PM for free, no registration required.