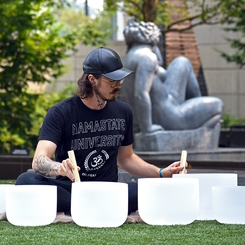 Sound Bath in the Sculpture Garden
August 14, 2023
6:00–9:00 PM
Location: CMA
We have SOLD OUT!
There will be no tickets available at the door. Thank you all for your support!
hOm & the Columbus Museum of Art are coming together again to create a summer experience focused on your well-being. Join us in the CMA Sculpture Garden for a relaxing yoga flow, guided meditation, and a very special hOm Sound Bath experience featuring guest vocalists and musicians harmonizing with violin, piano, chimes, singing bowls, and more to help you find your center and go deeper.
Arrive early and enjoy tea with Inner Steep, shop a selection of local vendors, and get a chair massage from The Now Massage. Come release, relax, and restore in the Sculpture Garden.
*In the event of inclement weather, the Sound Bath will move inside.*
Tickets are $44 for members, $55 for nonmembers.
Schedule
6:00–7:00 PM
Guest arrival (vendors, tea offering by Inner Steep, Chair massage)
7:00 PM
Yoga led by Adam Lawson of Give Yoga
7:45 PM
Guided meditation with Tim Russell
8:00–9:00 PM
hOm Sound Bath with vocalists and guests
What to Bring:
• Bring a yoga mat for the yoga flow plus additional padding and a blanket for the sound bath, if you would like.
• Bring a journal and pen so you can reflect on anything that is brought up during the ceremony or write down any messages that come through for you.
• We will have a space where you can place objects you would like to be charged with the energy of the night. (please nothing large, small items preferred like crystals, jewelry, bones, etc.)
What's a Sound Bath?
A sound bath is a tranquil meditation practice that typically involves being surrounded by various sounds and vibrations created by singing bowls, gongs, chimes, and other instruments. The purpose of a sound bath is to promote relaxation, stress relief, and inner peace. Participants typically lie down or sit comfortably while the sounds and vibrations wash over them, allowing them to let go of their thoughts and distractions and sink into a state of deep relaxation and mindfulness. Some people find that the combination of different sounds and vibrations can help to balance their energy centers and improve their overall sense of well-being.
Potential Benefits of a Sound Bath
1. Stress and anxiety relief: The soothing sound of singing bowls can help reduce stress and anxiety levels by inducing a state of deep relaxation and calm.
2. Pain relief: The vibrations produced by singing bowls can help relieve physical pain, particularly in conditions such as headaches and migraines.
3. Improved sleep: The calming effects of singing bowls can help promote better sleep, which is important for overall physical and mental health.
4. Improved focus and concentration: The repetitive, rhythmic sounds of singing bowls can help improve focus and concentration, making it easier to meditate and achieve a state of inner calm.