Wearing a mask at the Museum is optional.
Click here
for more information on visiting.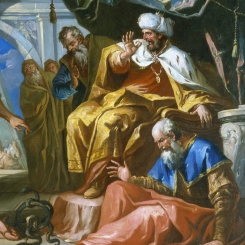 The History of the Old Masters Picture Gallery in Dresden
July 17, 2022
2:00–3:00 PM
Location: CMA & Online
Dr. Stephan Koja, director of the Gemäldegalerie Alte Meister (Old Masters Picture Gallery), Dresden, will speak about the history of this great European museum, from which the masterpieces in the current exhibition
Raphael—The Power of Renaissance Images: The Dresden Tapestries and their Impact
have been borrowed. From its origins in the sixteenth century through growth under great collectors such as Augustus the Strong, the museum's treasures—including Raphael's Sistine Madonna—have survived wars and challenges through the centuries. Guided by Dr. Koja, explore the compelling legacy of this vibrant institution whose storied galleries attract visitors from around the world.
Program is free with registration.
Register Here
Join Virtually
Gaspare Diziani, Moses Turns Aaron's Staff into a Snake, Oil on canvas. Staatliche Kunstsammlungen Dresden, Gemäldegalerie Alte Meister