Wearing a mask at the Museum is optional.
Click here
for more information on visiting.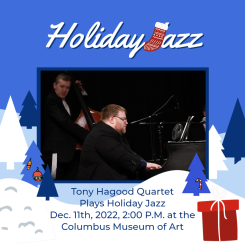 The Tony Hagood Trio Plays Jazz Holiday Standards
December 11, 2022
2:00–4:00 PM
Location: CMA
Join us at Columbus Museum of Art for a concert of great holiday jazz arrangements from artists like Nat King Cole, Frank Sinatra, Sarah Vaughn, Duke Ellington, Ella Fitzgerald, and much more! In addition to the trio, there will be several featured special guests bringing the holiday cheer. This concert is second in the 2022-2023 Tony Hagood Jazz Series. It was a fan favorite last year, and we hope you will make this part of your CMA holiday tradition.
Tickets are $25 for non-members and $20 for members in advance; $30 for everyone at the door.
Tony is an internationally accomplished pianist and composer from Central Ohio who worked with great pianists and friends of CMA, Mark Flugge and Richard Lopez. Tony's recent notable performances include the Riffe theatre Ukraine fundraiser, Jazz and Ribs fest, Worthington Concert on the Green Series, McConnell Arts Center jazz concert series, and playing with the Columbus Jazz Orchestra and the Pittsburgh Symphony Orchestra,
The Tony Hagood Trio is:
Tony Hagood - Piano
Reggie Jackson - Drums
Bradley Mellen - Bass
Register Here