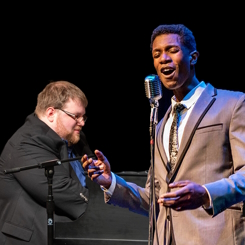 The Voice of Nat King Cole with the Tony Hagood Trio and Strings
October 8, 2023
2:00–4:00 PM
Location: CMA
Join us for this kick-off concert to the 2023–2024 Jazz at CMA series with Tony Hagood as we welcome Chicago-based vocalist and actor Evan Tyrone Martin to sing the songs Nat King Cole made famous! Evan tours nationally presenting the music and history of Nat King Cole at many theatres and concert series. His remarkable voice will remind you of the now famous Unforgettable album that launched Nat King Cole's solo career. Expect to hear several of the great piano trio arrangements before Nat found fame, as well as many of the beautiful arrangements from Unforgettable and many of his following albums with strings that found success landing him over 100 songs that became hits on the pop charts of the day.
For this season opener concert, Tony will be joined by his trio and string quartet. This will be an amazing concert of memories, warmth, and beautiful music. It's one not to miss!
Tickets are $30 for members, $35 for non-members in advance, and $40 for everyone at the door.