The Museum is closing early Thursday, September 29, at 3:00 PM for our annual gala.
Click here
for more information on visiting and to reserve a ticket.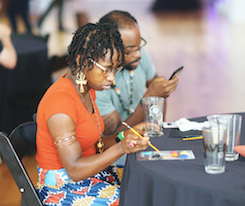 Think Like an Artist Thursdays
February 1, 2018
6:30 PM-8:30 PM
Think like an artist and imagine, connect, and explore CMA. Drop by for opportunities to make art, enjoy live music, and taste cocktails and craft beers. Join us this week for an evening with Craftin' Outlaws and music by Topher James and Biscuit Brigade. Cost of the program is included with pay what you want admission and is free for members.