Wearing a mask at the Museum is optional.
Click here
for more information on visiting.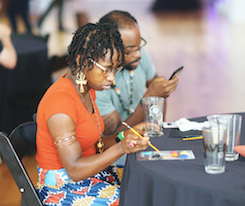 Think Like an Artist Thursdays
September 5, 2019
6:30 PM - 8:30PM
Join CMA, Streetlight Guild and Land-Grant Brewing Company for an evening of interactive art created on site by visitors alongside some of Columbus' fine artists. We will be exploring the concept of home in conjunction with the museum's "Home" exhibition in the Big Idea Gallery through the making of maps of all kinds: creative road maps, artistic maps, maps of things we love, mental maps…all manner of exploration through the creative process. Featured Artist: Hemalatha Venkataraman – Artist of "Brewing Home" SLG solo exhibit.