Wearing a mask at the Museum is optional.
Click here
for more information on visiting.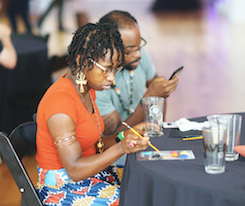 Think Like an Artist Thursdays with Craftin' Outlaws
February 6, 2020
6:30 PM
Location: CMA
Create a mini abstract painting on canvas with the help of featured artist Amy Haggard, aka The Makist in this next Think Like an Artist Thursdays hosted by Craftin' Outlaws. In addition, guests can create a letter to their future self. Write a note, grocery list or reminder of things you'd like to tell yourself. You seal it, we stamp it and mail it in the future. Plus shop from the pop up Outlaws Marketplace, and enjoy musical stylings from creative emcee, Sam Corlett who will take song requests and dedications, accompanied by live music. Play, make art, and enjoy craft beer, cocktails and live music the first Thursday of the month with Columbus Museum of Art and our local creative partners during Think Like an Artist Thursdays. Each month we partner with local creatives to bring you new experiences. Tickets are $5, free for members. Includes Thursday evening admissions and supplies.