Wearing a mask at the Museum is optional.
Click here
for more information on visiting.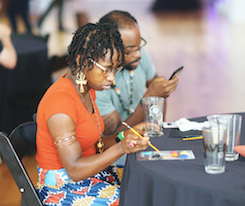 Think Like an Artist Thursdays with Craftin' Outlaws: Fiber Frenzy
March 7, 2019
6:30 PM - 8:30 PM
Play, make art, and enjoy craft beer, cocktails, and live music the first Thursday of every month with Columbus Museum of Art and our local creative partners. Join us this month for Women's History Month for an evening with Craftin' Outlaws, music by the all-female Americana band The Salty Caramels, and beer by BrewDog. Craftin' Outlaws invites visitors to celebrate all things yarn related with demos and hands on activities. Try your hand at string art, where you can dip string into paint and create a one of a kind image. Guests will assist in an oversize macraweave with fiber artist Sarah Harste, who will show guests how to weave tie macrame knots. Esther Hall will teach guests to lend a hand to a  BIG Blanket Project, using oversize needles and giant yarn. Toni Lipsey of TL Yarn Crafts will host a crochet in - where guests can create a crochet square that will get crocheted together and be on display at our April Think Like an Artist. Twelve lucky artists joining us will win a knit kit courtesy of Yarn It & Haberdashery. Cost of the program is included with Thursday evening admission, which is $5 for nonmembers and free for members.