Wearing a mask at the Museum is optional.
Click here
for more information on visiting.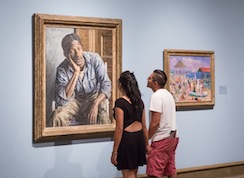 Think Like an Artist Thursdays
January 12, 2017
5:00 PM - 9:00 PM
CMA values the role artists play to imagine, question, connect and explore. Now it's your turn to think like an artist and experience the Museum in a new way. CMA partners with local artists and creative producers to generate a lineup of engaging opportunities. From 6:00 – 7:00 PM join us for a participatory experience informed by the Creative Control Fest in the Huntington Atrium, inspired by the work of Cameron Rowland. Cost of the program for nonmembers is included with pay what you want admission, and free for members.