The Museum is closing early Thursday, September 29, at 3:00 PM for our annual gala.
Click here
for more information on visiting and to reserve a ticket.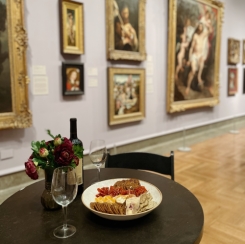 Valentine's Day with CMA
February 11, 2022
7:00 PM–8:00 PM
Location: CMA
Reservations for 6:00, 7:00, and 8:00 PM
SOLD OUT FOR ALL TIMED RESERVATIONS
Celebrate Valentine's Day at CMA! Explore the galleries at night and experience unique guided activities at your leisure. Connect with loved ones and enjoy a curated spread of light bites with refreshments. Tickets include a complimentary drink and there will be a cash bar for the evening. There will also be live music and a pianist to set the perfect mood for you and your guest.
Tickets are $60 for nonmembers and $50 for members.