As of March 7, the City of Columbus and Franklin County have lifted their mask mandates. Wearing a mask at the Museum is now optional.
Click here
for more information on visiting and to reserve a ticket.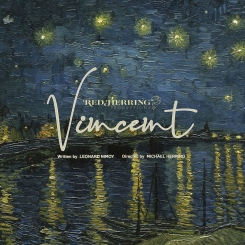 "Vincent" a one act play presented by Red Herring Theater
January 20, 2022
7:00–8:30 PM
Location: CMA
Distilled from more than 500 letters between Vincent Van Gogh and his brother Theo, Vincent portrays the pain, the passion, and the anguish of the painter's tormented life and depicts his struggle to achieve perfection in an imperfect world. Leonard Nimoy's Vincent paints a thoughtful, imaginary scenario about one of the most famous names in the art world, using excerpts and reminiscences from more than 500 letters exchanged between Vincent Van Gogh and his brother Theo.
Tickets
Tickets for Vincent are $50/$25 for nonmember/member
Tickets can be purchased in-person or online. If purchased in-person the purchaser receives a free pair of Van Gogh socks as well as physical tickets that can be given as a gift.


Graphic design by David Allen Vargo