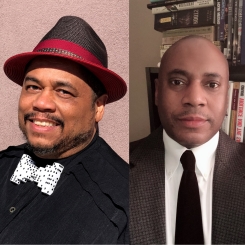 We Fall Apart as Whole: Exploring Aminah Robinson, Richard Duarte Brown and Black Love As Resilience
May 15, 2022
2:00–4:00 PM
Location: CMA & Online
Black love, oftentimes, is an act of resilience which resonates as power and beauty in spaces and places throughout the world. It is a guide, signpost, and marker for Black people who oftentimes find themselves falling apart, yet remaining whole as a people, community, and family. Exploring the idea of Aminah Robinson's Raggin' On, this talk will examine the culture carriers who exemplify the importance of holding on to family and community in both good and bad times. Scholar-In-Residence Terrance Dean, Ph.D., and 2022 Aminah Arts Fellow, Richard Duarte Brown will examine the chord, the thread of Black life which strings together the past, present and future of Black people within American history. Dr. Dean and Duarte Brown will explore the richness of Black people and the seed carriers who preserve the culture and aesthetics of Black life - artists, writers, thinkers, and everyday persons. Moreover, this dialogue will engage the unfinished and often silent dialogue of Aminah Robinson's son, Sydney. What do Aminah's works say about Black men and Black families, and the concept of culture carriers? What is the role of Black men and the ways in which Duarte Brown reimagines and re-engages Sydney's story? What and how do Black men dream about for their lives, and themselves?
We Fall Apart as Whole is about a community of people who thrive together, forge forward, and build their legacy in love.
This program is a hybrid experience with an in-person talk and a virtual Zoom session. Check back to this page to tune-in to the virtual experience on the event date. Both the in-person and virtual session are free.