Wearing a mask at the Museum is optional.
Click here
for more information on visiting.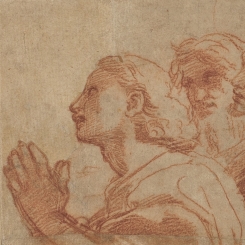 Wed@2: Mozart to Matisse – Courtly Themes: Music and the Dresden Tapestries
September 28, 2022
2:00–3:00 PM
Location: CMA
The 2022-23 season of Mozart to Matisse, an ongoing partnership of CMA with the Columbus Symphony Orchestra, begins with a concert planned in conjunction with the exhibition
Raphael—The Power of Renaissance Images: The Dresden Tapestries and their Impact
. Following a brief talk on highlights of the exhibition, an ensemble of CSO musicians will play selections from periods represented in the exhibition, during which inspired compositions were produced for princely courts and prelates of the Church.
Tickets are $5 for CMA Members, $20 Non-Members.
Register Here
Raphael, Eight Apostles (detail), c. 1514. Red chalk over stylus underdrawing and traces of leadpoint on laid paper, cut in two pieces and rejoined; laid down. National Gallery of Art, Washington, Woodner Collection, 1993