Wearing a mask at the Museum is optional.
Click here
for more information on visiting.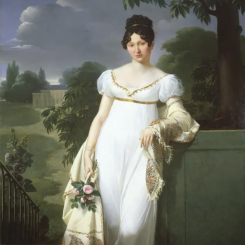 Wed@2: Regency Fashion: From Jane Austen to Bridgerton
August 24, 2022
2:00–3:00 PM
Location: CMA & Online
Clothing of the distant British Regency period (1811–1820) is still admired and emulated today. Considered both elegantly romantic and attractively modern, Regency fashions have been made over on today's runways and on stage and screen, from adaptations of novels by Jane Austen to the current hit TV series
Bridgerton
. Guest lecturer Jeffrey Nigro (Art Institute of Chicago) will explore the distinctive clothing styles of this era—ranging from classic simplicity to frothy extravagance—as portrayed in 19th-century paintings, fashion plates and satirical cartoons, followed by a look at Regency apparel viewed through the lens of contemporary media.
In-person tickets are $5 for CMA Members, $20 Non-Members. Virtual Zoom session is free.
Register Here
Join Virtually
Image: Merry-Joseph Blondel, Félicité-Louise de Durfort, Maréchale de Beuronville (detail), 1808, private collection