Wearing a mask at the Museum is optional.
Click here
for more information on visiting.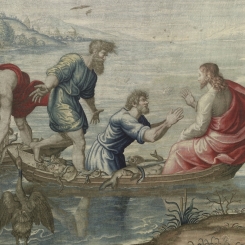 Wed@2: The Dresden Tapestries, Part 1: Raphael & the Tapestries
July 27, 2022
2:00–3:00 PM
Location: CMA & Online
In this first of a two-part series in conjunction with the exhibition
Raphael—The Power of Renaissance Images: The Dresden Tapestries and their Impact
, David Stark, Chief Curator Emeritus, will discuss the six monumental tapestries in the exhibition, woven in the 17th century from large cartoons (paintings) created in the previous century by the Renaissance master Raphael. The lecture will look at the religious contents of the tapestries and will include a survey of the art and life of Raphael, whose brilliant career was cut tragically short by his death at age of 37.
In-person tickets are $5 for CMA Members, $20 Non-Members. Virtual Zoom session is free.
Register Here
Join Virtually
Mortlake Tapestry Manufactory (after designs by Raphael), The Miraculous Draft of Fishes (detail), after 1625. Tapestry, Staatliche Kunstsammlungen Dresden, Gemäldegalerie Alte Meister