Wearing a mask at the Museum is optional.
Click here
for more information on visiting.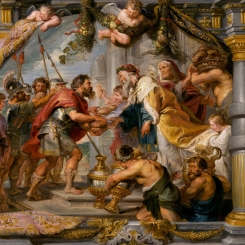 Wed@2: The Dresden Tapestries, Part 2: The Impact—Works Inspired by the Tapestries
August 3, 2022
2:00–3:00 PM
Location: CMA & Online
In second of a series of two lectures on the exhibition
Raphael—The Power of Renaissance Images
, Carole Genshaft, curator-at-large, will discuss works in the exhibition that show the influence of or are related to the Dresden tapestries: prints and drawings, paintings, sculpture, and ceramic ware. Few art works have inspired as many succeeding generations of artists as these tapestries the cartoons by Raphael on which they are based. Works discussed in this talk include two drawings by Raphael's own hand, copies of ancient sculpture, portraits of monarchs and princes, and paintings by the great 17th-century masters Peter Paul Rubens and Nicolas Poussin.
In-person tickets are $5 for CMA Members, $20 Non-Members. Virtual Zoom session is free.
Register Here
Join Virtually
Peter Paul Rubens, The Meeting of Abraham and Melchizedek (detail), c. 1626. Oil on panel. National Gallery of Art, Washington, Gift of Syma Busiel, 1958.4.1