Wearing a mask at the Museum is optional.
Click here
for more information on visiting.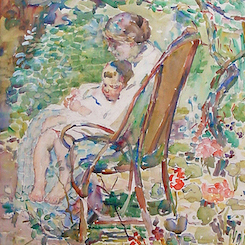 Wednesday @2: Curator's View Alice Schille
July 31, 2019
2:00 PM
Chief Curator David Stark overviews In a New Light: Alice Schille and the American Watercolor Movement and surveys the artist's career, her Ohio origins, and travels across the America, Europe, Africa, and Latin America. He discusses paintings in the exhibition, some of which have not been exhibited publicly since the early 20th century, and range from scenes of domestic life in rural France and the Netherlands to views of turn-of-the-century London and Paris that evoke Whistler's lyrical style. Discover the brilliant color and modernist vision of Alice Schille, whose inspired art deserves a new look. Cost of this program is $20 for nonmembers and $5 for members.