Wearing a mask at the Museum is optional.
Click here
for more information on visiting.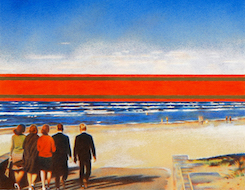 CANCELLED Wednesdays@2: Columbus Moving Company Interprets Red Horizon
September 20, 2017
2:00 PM
This program has been cancelled due to unforeseen circumstances. Join us as the Columbus Moving Company (CMCo) interprets works of art from the special exhibition, Red Horizon, through Russian music and contemporary dance. CMCo is the resident modern dance company at the Short North Arts District's historic Garden Theater. A professional, project- based company, CMCo is a training and performance platform for local dancers committed to the innovation of contemporary modern dance. Cost of the program is $20 for nonmembers (includes general admission) and $5 for CMA members.
Tickets.