Wearing a mask at the Museum is optional.
Click here
for more information on visiting.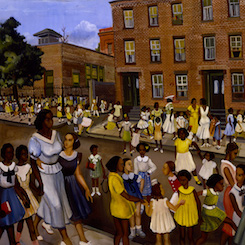 Wednesdays@2 Curator's View: I, Too, Sing America
November 28, 2018
2:00 PM
Learn more about I, Too, Sing America: The Harlem Renaissance at 100 during this lecture, which surveys the themes and artists on view, such as Jacob Lawrence, Romare Bearden, Archibald Motley, and James Van Der Zee. I, Too, Sing America includes paintings, sculpture, prints and drawings, photographs, and books. The exhibition's title is derived from a 1926 poem by Langston Hughes, a reminder that the Harlem Renaissance encompassed not only the visual arts but also literature, music, theater, and cinema, all of which will be included in this comprehensive look at this key period in the history of American culture. Cost of this program is $20 for nonmembers (includes general admission) and $5 for members.