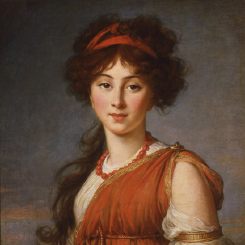 Wednesdays@2: Five Hundred Years of Women's Self Portraits
March 30, 2022
2:00–3:00 PM
Location: CMA & Online
Come explore the extraordinary lives and work of women whose resilience, talent, and determination reveal so much about their times and lives.
Their images and stories offer intriguing insight into women's place in the art world over the last half a millennium. Art historian and professor Dr. Susan Myers will guide us in discovering and appreciating these groundbreaking artists, three of whom are represented by works in our permanent collection.
In-person tickets are $5 for CMA Members, $20 Non-Members. Virtual Zoom session is free.
This program is a hybrid experience with an in-person talk and a virtual Zoom session. Check back to this page to tune-in to the virtual experience on the event date.

Elisabeth Louise Vigée Le Brun, Varvara Ivanovna Ladomirsky, 1800. Oil on canvas. Museum Purchase, Derby Fund