Wearing a mask at the Museum is optional.
Click here
for more information on visiting.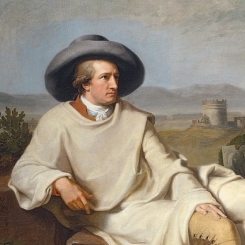 Wednesdays@2: Mozart to Matisse — Classical Revival: 18th Century German Art
January 11, 2023
2:00–3:00 PM
Location: CMA
A brief lecture on origins of the 18th-century Neo-Classical movement in art, sparked in part by the writings Johann Winckelmann, a German art historian, will provide the background for a performance of music from the Age of Enlightenment.
Tickets are $5 for members and $20 for nonmembers.
J.H.W. Tischbein, Goethe in the Roman Campagna (detail), 1778, Städel Museum, Frankfurt.