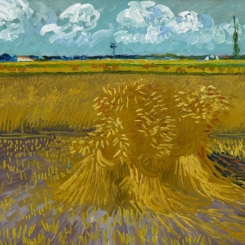 Wednesdays@2: Mozart to Matisse, Van Gogh's Sources—Art, Books, and Music
November 17, 2021
2:00–3:00 PM
Location: CMA
THIS EVENT IS SOLD OUT
Don't miss the first program of the 2021–2022 season of Mozart to Matisse, with chamber music from the Romantic period performed by Columbus Symphony Orchestra musicians paired with a talk by CMA chief curator emeritus David Stark on art featured in the exhibition Through Vincent's Eyes. This program is occurring live and in-person at the Columbus Museum of Art. Tickets are $5 for members and $20 for nonmembers and include admission.

Vincent van Gogh, The Wheatfield, 1888. Oil on canvas, Honolulu Museum of Art, Gift of Mrs. Richard A. Cooke and Family in memory of Richard A. Cooke.