The Museum is closing early Thursday, September 29, at 3:00 PM for our annual gala.
Click here
for more information on visiting and to reserve a ticket.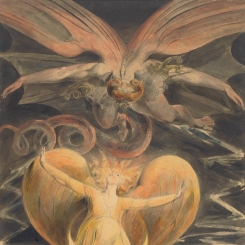 Wednesdays@2: Mozart to Matisse, Visions of Dante
March 9, 2022
2:00–3:00 PM
Location: CMA
A survey of works by French Romantic artists such as Eugène Delacroix, William Blake, and Gustave Doré, all of whom illustrated or were inspired by the works of Dante, whose writings were source of Liszt's Symphony to Dante's Divine Comedy.
Tickets are $5 for CMA Members and $20 for nonmembers.


William Blake, The Great Red Dragon and the Woman Clothed with the Sun, c. 1805. Pen and gray ink with watercolor over graphite. National Gallery of Art, Washington, DC, Rosenwald Collection