Wearing a mask at the Museum is optional.
Click here
for more information on visiting.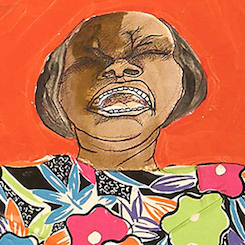 Wednesdays@2 Raggin' On: The Curators' View
December 9, 2020
2:00 PM
Location: Online
Join Carole Genshaft, curator-at-large, and Deidre Hamlar, consultant, in an online conversation about the exhibition Raggin' On: The Art of Aminah Robinson's House and Journals, which they co-curated. Installed in the Walter Wing and accompanied by a fully-illustrated catalog, this exhibition invites visitors to experience the atmosphere of Aminah's home studio through her mixed-media art, extensive writings in journals and memoirs, and a sampling of the books and furnishings that made the house her sanctuary. When she passed in 2015, she left her estate — including the house —to the Museum. A preeminent and prolific Columbus artist, she celebrated the the struggles and triumphs of African American life and culture in Ohio as well as distant locations, from the American South to Africa, blending past and present in multi-media works. The curators will highlight exhibition themes, major works, and photos of the recently restored house, providing a lively introduction to this exciting exhibition.