Wearing a mask at the Museum is optional.
Click here
for more information on visiting.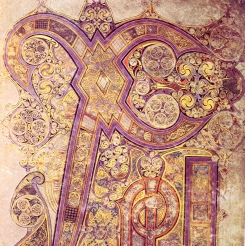 Wednesdays@2: The Book of Kells
March 17, 2021
2:00 PM - 3:00 PM
Location: Online
Join CMA Curator David Stark for a special St. Patrick's Day edition of Wednesdays@2. David's topic will be t
he
Book of Kells.
Produced by Irish monks in the 8th century, this medieval masterpiece is one of the most visually stunning manuscripts of the Middle Ages to have survived to the present day. It even inspired an Oscar-nominated, animated film,
The Secret of Kells,
released in 2009. The online art talk will include a look at the imagery, style and technique of the legendary book, which features intriguing symbolism, hypnotic, interlaced designs and patterns--and a blonde Christ. A brief survey of Celtic crosses and other Irish manuscripts will conclude the program.
Image Credit:
Book of Kells, Chi Rho Iota
page, 8th century, illuminated manuscript, Trinity College Library, Dublin, Ireland