We believe it is our responsibility to support the City of Columbus' mask mandate, and to provide as safe an experience as possible for our visitors. We ask all Museum visitors to respect the mandate and each other, and please wear a mask.
Click here
for more information on visiting and to reserve a ticket.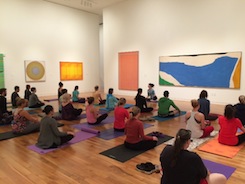 Yoga @ CMA
August 16, 2018
6:00 PM
Join CMA and Replenish for Thursday night yoga and meditation in the galleries. From 6:00 –7:00 PM, enjoy yoga for everyday life followed by meditation from 7:00 – 7:30 pm. Gallery location rotates weekly. Cost of yoga is $5 and supports efforts to ensure that all people have a space to do yoga. Checkin and pay at the admissions desk. All are welcome, no registration requested.