The Museum is closing early Thursday, September 29, at 3:00 PM for our annual gala.
Click here
for more information on visiting and to reserve a ticket.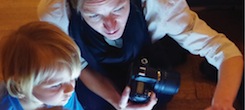 Young Child Open House
February 4, 2017
10:00 AM - 3:00 PM
Are you curious about what CMA has to offer children five and under? Join us for our annual Young Child Open House. CMA educators will offer a variety of programming in an open and flexible schedule. Explore the collection together with preschooler-friendly gallery activities, or experiment with materials. There's even an experience specially tailored for toddlers (0 – 3 yrs.) Free with admission, no reservation requested.