The Museum is closing early Thursday, September 29, at 3:00 PM for our annual gala.
Click here
for more information on visiting and to reserve a ticket.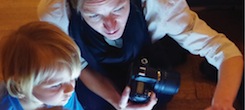 Young Child Studios
October 17, 2017
10:00 AM - 12:00 PM
During these hands-on workshops for families with young children (18 months to 5 years) caregivers and children talk, play and think creatively together. CMA's artist educators design unique environments with opportunities for families to experiment. This program is drop- in; no reservations requested. Cost of the program is $8 per child plus adult admission for nonmembers and $8 per child for members.