Wearing a mask at the Museum is optional.
Click here
for more information on visiting.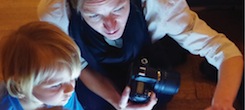 Young Child Studios
December 19, 2017
10:00 AM - 12:00 PM
During these hands-on workshops for families with young children (18 months to 5 years) caregivers and children talk, play, and think creatively together. CMA's artist educators design unique environments with opportunities for families to experiment. In December, explore the big idea Shine — light, reflection and all things sparkly during this darkest time of the year. Cost of the program is $8 per child plus adult admission for nonmembers and $8 per child for members. This is a drop-in program, no registration requested.