Wearing a mask at the Museum is optional.
Click here
for more information on visiting.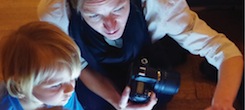 Young Child Studios
September 7, 2019
10:00 AM
Visit In a New Light and the explore new horizon lines and landscapes in the Studio. Now available every Saturday morning! During these hands-on workshops for families with young children age 18 months to 5 years, caregivers and children talk, play, and think creatively together. Cost included with general admission, no registration requested.