Wearing a mask at the Museum is optional.
Click here
for more information on visiting.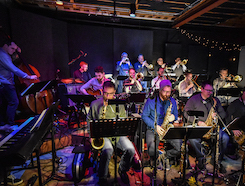 Zach Compston Big Band Bar & Lounge
June 20, 2019
6:30 PM - 8:30 PM
Join us as we host a casual concert featuring reimagined and original big band music by Columbus's own Zach Compston Big Band. Drop-in any time, buy a speak-easy inspired drink created by Middle West Spirits, hang-out with your friends, and enjoy the laid-back atmosphere. Make a night of it and visit the café for dinner before or after the concert. The concert is included in $5 Thursday admission (free for members) no RSVP's requested.