Innovative new center devoted to legendary American artist George Bellows and fellow Ashcan School artists to launch November 4, 2021
Hours for the opening weekend are:
November 4, 7:00–8:00 PM
November 5, 1:00–3:00 PM
November 6, 3:00–5:00 PM
November 7, 1:00–3:00 PM
The Bellows Center will be available by appointment only after the opening weekend. Appointment requests can be directed at Elizabeth Hopkin by emailing her at Elizabeth.Hopkin@cmaohio.org
This fall the Columbus Museum of Art will officially unveil the new George Bellows Center, a hub dedicated to fostering and incubating exhibitions, publications and scholarly research and presenting public programs related to the legendary American artist and his contemporaries. A leading modern and realist artist, George Bellows (1882-1925) was born and educated in Columbus, Ohio, before leaving for New York City to study art. Housed within the Columbus Museum of Art, the Bellows Center will include a gallery and study space for visiting scholars and students and will convene public events throughout the year. The new center was made possible with leadership support from the Teckie and Don Shackelford family. The Shackelford family also endowed CMA's curator of American art, who will serve as the director of the Bellows Center.
The Nov. 4, 2021, opening weekend event will be headlined by noted Bellows scholar Mark Cole, William P. and Amanda C. Madar curator of American painting and sculpture at the Cleveland Museum of Art. Cole will present on Bellows' life both as a gifted athlete and astute observer, chronicler and interpreter of the world around him, including sporting subjects as a microcosm of society. For Bellows, sports were metaphors for life itself, and his images of skill and rivalry stand as potent symbols for the brash competitive spirit of early modern America. Throughout the opening weekend, visitors will be invited to stop by the Center for a rare look at Bellows' arts record book, as well as Bellows prints, lithographs and paintings.
The inaugural year of programming for the Bellows Center continues in Spring 2022 when CMA welcomes Charles Brock, associate curator of American and British paintings at the National Gallery of Art in Washington, D.C., and lead scholar and curator of the National Gallery's 2012 retrospective on the artist, who also will present a lecture on the artist.
"The George Bellows Center epitomizes CMA's enduring commitment to honoring and supporting the extraordinary artists who have called Columbus home," said Nannette Maciejunes, CMA executive director and CEO. "On behalf of the entire CMA community and scholars worldwide, I would like to extend my gratitude to the Shackelford family for their visionary philanthropy that allows us to celebrate the legacy of George Bellows and the cohort of iconic American artists of his generation."
CMA has the single most important collection of Bellows' work in the United States. The museum continues to add to its Bellows holdings and is compiling one of the most significant collections of the artist's lithographs in a public institution, as well as growing and caring for Columbus' collection of Bellows paintings and lithograph drawings.
Among Bellows' first noted commissions were portraits of prominent Columbus citizens. He maintained close ties to Columbus throughout his life and organized the first major exhibition of the Ashcan School artists outside of New York in Columbus.
Equally acclaimed as a painter and printmaker, Bellows embraced a wide range of subjects – from portraits of family to bold depictions of urban streetscapes in New York, to indelible landscapes. Affiliated with the Ashcan School, a group of New York artists interested in capturing everyday American life, Bellows was part of a groundbreaking group that changed the trajectory and status of American art. Many of Bellows' images, particularly his lithographs, reflect his social justice concerns: immigration, the horrors of WWI and capital punishment.
In 2025 CMA's Bellows Center plans to mark the centennial of the artist's death with a special exhibition, publication and range of public programs. CMA is currently working to publish the Bellows record book, which is jointly owned by the museum and The Ohio State University, and to make it accessible online.

Events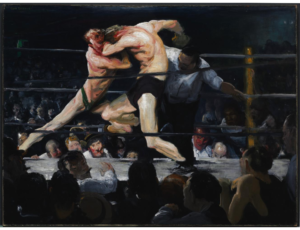 George Bellows, Stag at Sharkey's, 1909. Oil on canvas, Cleveland Museum of Art, Hinman B. Hurlbut Collection.
George Bellows and the Art of Sports
November 4
6:00 – 7:00 PM
Hear Mark Cole, William P. and Amanda C. Madar Curator of American Painting and Sculpture at the Cleveland Museum of Art examine the artist George Bellows. Sporting images punctuate the career of George Bellows (1882-1925), who was a gifted athlete in his own right. By the time he came of age at the dawn of the 20th century, sports had transitioned from informal entertainments to organized national obsessions. An astute observer, chronicler, and interpreter of the world around him, Bellows presented his sporting subjects as microcosms of society. Ultimately for the artist, sports were metaphors for life itself, and his images of skill and rivalry stand as potent symbols for the brash competitive spirit of early modern America.
This program is a hybrid experience with an in-person talk and a virtual Zoom session. Register to attend the event in-person and check back to this page to tune-in to the virtual experience on the event date.
The original scheduled lecture titled "George Bellows: Art and Politics" with Charles Brock will be held in the spring as part of programming for the inaugural year of the George Bellows Center.
George Bellows, Self-Portrait, Lithograph, 1921. Museum Purchase with funds provided by Lois Chope