May 10, 2018 – August 12, 2018
GO FIGURE takes on the human form in ways both inquisitively tender and provocatively direct. Works offer an array of perspectives about how we look at others, how we look at ourselves, how we take in and interpret bodily forms, and what we deduce from those encounters. At this particular moment, our bodies face an outlandish number of threats ranging from gun violence, to legislation against reproductive rights, to widespread sexual abuse. The works in this exhibition do not shy away from fundamental discussions pertinent to our culture wars, showing how figuration in painting, photography, and sculpture can address aging, sexuality, the inequities of the art historical canon, social media obsessions, and definitions of intimacy.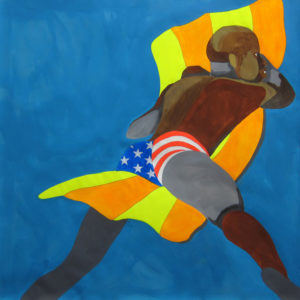 Derrick Adams, Floater No. 19, 2016. Courtesy the artist and Rhona Hoffman Gallery.
This intergenerational exhibition features surreal and sexy paintings of women by art world icons like Joan Semmel, mid-career masters like Nicole Eisenman, and newcomers like Allison Zuckerman. Kehinde Wiley makes a cameo with a monumental bronze bust, his first representing women. The sculpture Wiley says, "looks at the presence of black women, all of those women who raised me, the graceful women who've been in my life over the years, but also the ways in which black American women adorn themselves as both a type of communication act and of armor." Photographers Deana Lawson and Omar Victor Diop carefully stage images, playing with our tendencies to create narratives from seemingly documentary photographs. Nathaniel Mary Quinn and Deborah Roberts, newcomers to the collection, create collages of magical human forms. We welcome back Derrick Adams with five new acquisitions, whose saturated colors and subject matter ranging from birthday parties to pool parties remind us of the joy of human connections and the necessity to celebrate love over hate.
---
ARTISTS
Derrick Adams
Firelei Baez
Omar Victor Diop
Marcel Dzama
Nicole Eisenman
Teresita Fernandez
Lola Flash
Yashua Klos
Deana Lawson
Franck Lundangi
Tala Madani
Toyin Odutola
R.H. Quaytman
Nathaniel Mary Quinn
Deborah Roberts
Joan Semmel
William Villalongo
Kehinde Wiley
Allison Zuckerman
---